Visitor Facts for visiting in Vava'u Islands, Tonga

Introduction

The Kingdom of Tonga is an archipelago of 170 islands located in the Polynesian South Pacific Ocean.

The islands of Vava'u (one of Tonga's three main island groups) are located 240km north of Tongatapu. Vava'u offers over 50 islands with lush tropical landscapes to explore and enjoy, famed for their white sand beaches, coral reefs, crystal clear blue waters and ideal sailing conditions. The main village of the Vava'u group is Neiafu, with a population of approximately 10,000.

Ha'apai offers over 62 Islands, 17 are populated and has a population of 8,000. Ha'apai is trying to stay as an Eco-Island - no flashy lights of Vava'u and Tongatapu.

Information
The Tonga Visitors Bureau has an office on Fatafehi Road, Neiafu.
Phone (676) 70 115
Fax (676) 70 666
E-mail
Website
VHF 16
PO Box 18, Neiafu
Hours: Monday to Friday 8:30am-4:30pm

The Tonga Visitors Bureau has an office on Holopeka Rd, Pangai, Ha'apai.
Phone (676) 60 733
Fax (676) 60 733
E-mail
Website
Holopeka Road, Ha'apai
Hours: Monday to Friday 8:30am-4:30pm

Tourism in the Kingdom
Tourism is slowly increasing in the Kingdom, tourist numbers have doubled in the last 10 years, while foreign earnings have quadrupled in the same period. Tourist numbers are still VERY modest at less than 90,000 per year and come from cruising yachties, cruise ships, and air passengers of course. So what is holding tourism back? A lack of infrastructure, customer service ethic and financial encouragement to invest.

In 2010 we will possibly see a second airline in the Kingdom, more direct international flights direct into Vava'u (the main tourist destination) and increased training by APTC into the tourism market. Below is a graph showing tourist number and earning trends bsed on data supplied from Tongan Inland Revenue Service and Tongan Immigration.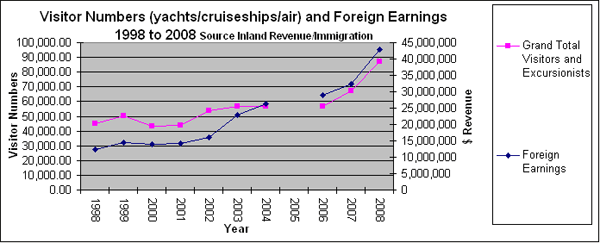 Time
Tonga is 13 hours ahead of Greenwich Mean Time and the first to see the light of each day.

Electricity
Electricity in Tonga is 240 volts. The three-pin plugs are the same as those in Australia and New Zealand.

Emergencies
Police 922 or Phone (676) 70 234
Fire 999 or Phone (676) 70 089
Hospital 933
Any Emergency Assistance 911

Liquor Laws
The legal drinking age is 18. The sale of alcoholic beverages is permitted 10am to 12.30am Monday to Friday and on Saturday from 10am to 11pm in licenced establishments - the liquor licence must be displayed. From midnight Saturday to midnight Sunday liquor cannot be served - with the exception of licensed hotels. Liquor can be sold in Supermarkets Monday to Saturday at any time. Holiday hours; Good Friday 12pm to .30pm, Christmas Day 6pm to 8.30pm, Easter Sunday; None.

Duty Free Allowance
Travellers from overseas board they have a duty free allowance of 2.25 liters of spirit or alcoholic beverages. Yacht crews have 24 hours to purchase duty free after checking in.

Self Catering
You may import, ONLY for your own use, Meat, cheese and eggs - you must declare it and duty may be payable based on the value so have the purchase receipt ready if it isn't listed on the food packaging. Ensure it is in original packaging from a butchery or supermarket - take frozen in a chiller bag to maintain freshness of course.


Medical Services
Ngu Hospital, Talau (+676) 70 201.
Email: Doctor Edgars ()
Nui'ui Hospital, Pangai, Ha'apai +676 60203
Senior Medical Officer (+676) 70 304 / Hap +676 60203
Sister-in-Charge and Nurses (+676) 70 203 / Hap +676 60203
Dental Services (+676) 70 202 / Hap +676 60203
See Also the Pharmacy in the Trades Section

Medical facilities are good but basic, facilities in Nukualofa are more advanced. Like any country you would visit is pays to have Travel Insurance

Tonga and especially Vava'u are a popular choice for UK, Australian and NZ medical students doing there overseas elective. Have a chat to Scott in the Pharmacy as well, in town, as he welcomes Medical Students and see's some interesting cases - air conditioned as well!

is handy to the hospital and we have all kinds of for the exam weary student!

Telephone
The international country code is 676.
Tonga Communications Corporation is located next to the Post Office, open during business hours Monday to Saturday for domestic and long-distance calls. Fax service also available during office hours.

Does not do Collect calls to United Kingdom/United States/Niue/Cook Islands

Mobile Telephone
Two providers exist for GSM cellular, Tonga Communications Corporation (TCC) and Digicel. GSM roaming is only supported on 800/900 GSM phones and they must also be "unlocked". Roaming is still a little haphazard from other countries. . You can buy SIM cards at the International Airport in Nukualofa, Nukualofa, Haapai or Vava'u.

also has several loan SIM and cellphones available at no charge.

Cafe Tropicana in Vava'u also has several loan SIM and cellphones available at no charge.

Tipping
Tipping and haggling are not the usual custom in Tonga, though in some tourist facilities they do occur. Tongan Dancing is the exception; take plenty of T$1 and T$2 notes to stick on the oiled arms of dancers - it is a show of appreciation not begging. While tipping is an excellent way to show your appreciation (many Tongans put tips towards paying school fees)

Consumption Tax
Tonga has a 15% Consumption Tax charged on all goods and Services by registered suppliers (threshold is $100,000 p.a. except fruit, vegetables and Fish. Most prices include CT but some places add it to their stated prices - be careful!

Credit Card/EFTPOS
Credit Cards are available at most tourist businesses - they attract upto 5% premium. EFTPOS is less commonly accepted.

Activity Calender
---

Postal/Couriers/Shipping

Post Office - Vava'u
Opposite the wharf. Open Monday - Friday 9:00am-4:30pm, Closed for Lunch 12:30 to 1:30
Phone (676) 70 141
The post office is the red building behind the Police station right in the centre of town.

Post Office - Ha'apai
Main Road, Pangai. Open Monday - Friday 9:00am-4:30pm
Phone (676) ??????

Couriers
Couriers into Tonga are not too bad, getting them to Vava'u can be interesting and the slow part of the trip, you might have to chase the courier and customs clearing agent in Tongatapu to put it on a flight and pay them directly as these courier companies do not ship end to end for Vava'u. Allow at least 3 weeks for all courier companies!

Parcels are subject to inspection from the Tonga Customs. Address the package as follows - S/Y Yacht Name, Yacht in transit, but be aware that clearance fees may still apply – you will also need to email your passport, Health Practique and your yacht ownership papers.

Please organise with Cafe Tropicana or any other restaurant to receive your packages prior to sending it. If your getting items sent for a cruising yacht or boat then address it as follows...

S/Y Yacht Name, Yacht in transit, c/o ICA Port Captain, Cafe Tropicana, Private Bag 34, Neiafu, Vava'u, Kingdom of Tonga, South Pacific.

UPS agent : E.M. Jones Hardware
Telephone Vava'u +676 70422 Tongatapu +676 23 423 and +679-720-043
FedEx agent : Western Union
Telephone Vava'u +676 70888 Ha'apai +676 60798Tongatapu +676 28928
DHL agent : Mapa (taxi driver)
Telephone Vava'u +676 12363 Ha'apai?????? Tongatapu +676 23617
TNT Agent : Chathams Pacific
Telephone Vava'u +676 71280 Ha'apai +676 ?????? Nukualofa +676 23012

Reef Shipping - ship direct to Nukualofa and Vava'u.








Dateline TRANSAM Head Office

Dateline TRANSAM Shipping Ltd.
Fakafanua Center Suite 10-12
Cnr By Pass & Vuna Road

Phone: +676 24-470
Fax: +676 23-993
E-mail:

Pacific Forum Line - ship direct to Nukualofa




SF Enterprises - Connecting the South Pacific with the World
Offices in:
The Bay Area
Long Beach
Tonga
Apia
Pago Pago
New Zealand


Business hours
Business hours are flexible, but are usually from 9am until 4.30pm, with most shops open from 8.30am to 5pm on weekdays, and 9am to noon on Saturday. Fale koloa (small grocery kiosks) have the longest hours, from around 6am to 10pm Monday to Saturday. Liquor may not be sold from supermarkets and liquor shops after 5pm Monday to Friday and 12pm on Saturdays

Cafes are usually open from 7am to 10am for breakfast, noon to 2pm for lunch, and 6pm to 10pm if they serve evening meals. Larger hotels and a few restaurants open to the public on Sunday, but most restaurants are closed. Produce markets generally operate from 6am to 4pm on weekdays and are busiest from 6am to noon on Saturday.

Bakeries become the social hub on Sunday afternoon, with wafts of freshly baked bread, pastries and pies drawing customers in. They open from about noon (around 4pm on smaller islands) to anywhere between 8pm and 11pm. Note, however, that time in Tonga is tolerated rather than obeyed. Be prepared for prearranged meeting times and standard opening hours to regularly be ignored without a hint of remorse or social consequence. Taxis do not generally operate on Sundays but some drivers will if pre-arranged.

---